Introduction to the 'magick' and 'polygon_tiling' patterns
The 'magick' pattern allows use of imagemagick's in-built pixel-based patterns. It is an "array" pattern that depends on the suggested package magick.

The 'polygon_tiling' pattern supports a large number of polygon tilings. It is a "geometry" pattern.

For more info on these patterns see their gridpattern documentation:
pattern = 'magick' - filling a geom with pattern from imagemagick
imagemagick has the ability to create pixel-based patterns. This pattern uses those pixel patterns to fill the geom.
pattern = 'magick' options
| | | |
| --- | --- | --- |
| pattern_type | Image scaling type | 'fit' |
| pattern_fill | Colour | 'grey20' |
| pattern_scale | Extra scaling | 1 |
| pattern_filter | Filter to use when scaling | 'box' |
| pattern_alpha | Alpha | NA |
| pattern_aspect_ratio | Override aspect ratio | NA |
| pattern_key_scale_factor | Additional scale factor for legend | 1 |
pattern = 'polygon_tiling' - filling a geom with a polygon tiling
Pattern Parameters
| | | | |
| --- | --- | --- | --- |
| pattern_colour | Stroke colour | 'grey20' | colour |
| pattern_fill | Fill colour | 'grey80' | colour |
| pattern_angle | Rotation angle | 30 | angle in degrees |
| pattern_spacing | Spacing between repetitions of pattern | 0.05 | value in range [0, 1] (snpc units) |
| pattern_xoffset | Shift pattern along x axis | 0 | value in range [0, 1] (snpc units) |
| pattern_yoffset | Shift pattern along y axis | 0 | value in range [0, 1] (snpc units) |
| pattern_alpha | Alpha | NA | value in range [0, 1] or NA |
| pattern_linetype | Stroke linetype | 1 | linetype |
| pattern_size | Stroke linewidth | 1 | linewidth |
| pattern_type | Pattern type | NA | gridpattern::names_polygon_tiling. See polygon_tiling pattern documentation for more info. |
pattern = 'polygon_tiling' - pattern_type options




df1

 

<-

 data.frame

(


  x    

=

 rep

(

1

:

4

, 

9

)

,
  y    

=

 rep

(

1

:

9

, each

=

4

)

,
  name 

=

 

gridpattern

::

names_polygon_tiling

[

1

:

36

]

,
  stringsAsFactors 

=

 

FALSE




)



ggplot

(

df1

)

 

+

 
  geom_tile_pattern

(


    aes

(

x

, 

y

, pattern_type 

=

 I

(

name

)

)

,
    pattern       

=

 

'polygon_tiling'

,
    pattern_scale 

=

 

1.5

,
    pattern_fill  

=

 

'white'

, 
    width         

=

 

0.9

, 
    height        

=

 

0.9


  

)

 

+

 
  geom_label

(

aes

(

x

+

0.4

, 

y

+

0.4

, label 

=

 

name

)

, hjust 

=

 

1

, vjust 

=

 

1

)

 

+

 
  theme_void

(

)

 

+

 
  labs

(


    title 

=

 

"All the possible 'polygon_tiling' pattern names"


  

)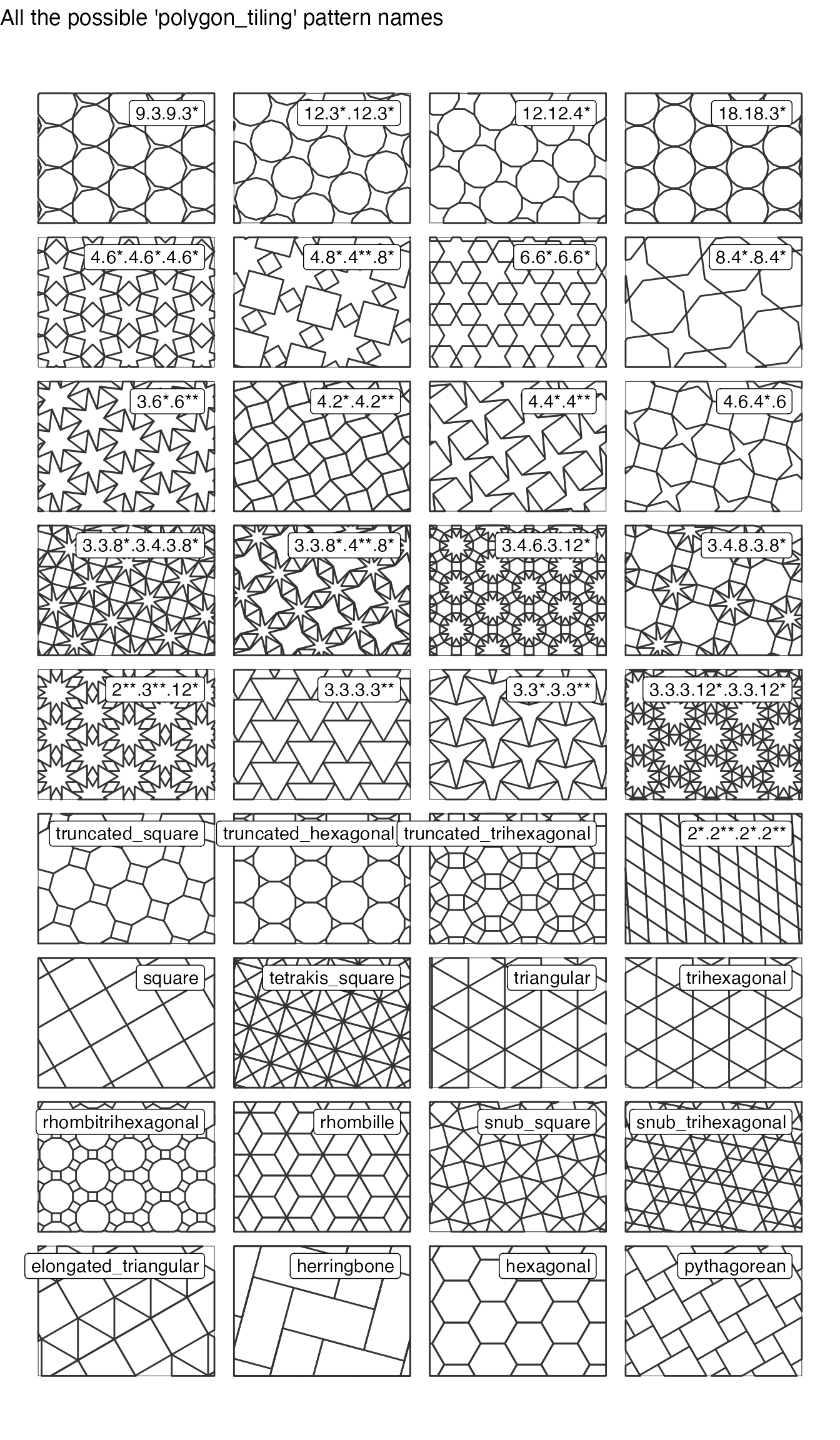 pattern = 'polygon_tiling' - Bar chart